Your domain at the best price !
The benefits of the Mister Hosting domain name pack
The registration of a domain name is the first step to launch the online presence of its activity. It's about name with which a visitor can access your website from his url bar. Therefore it is advisable that it is pronounceable and can be easily retained.
In addition, the creation of a domain name with MisterHosting is the insurance of Register your domain name with an accredited registrar and with experience. As of today, we have registered more than 500 000 domains.
Included with each domain
Sub domains unlimited
Confidentiality Whois directory
Anti-theft domain lock
Security DNSSEC
Web redirection
Advanced DNS Management
Offered with all domains
2Go of Web hosting (only HTML / CSS)
2 Customizable emails ([email protected])
Software SiteBuilder Pro to create a presentation site (3 pages)
Interface Webmail responsive
SSL Certificate
Our solutions
Over 400 extensions Domain
New extensions (NewqTLDs)
Domain Name with accents (IDN)
To transfer a domain name
TradeMark ClearingHouse
Our guarantees
Free support in France by phone, email and livechat 7j / 7
Domain Registar accredited (Icann, Verisign, Afilias, Afnic, Dns.be, Eurid, Dns.lu, Pir, Nominet ..)
We recorded more than 500 000 domain names
Awarded by Eurid "Best seller newcomer registrar"
One of the best value for money on the domain name market
Your domain name at the right price
MisterHosting is accredited by Icann, Verisign, Afilias, Afnic, Dns.be, Eurid, Dns.lu, Pir, Nominet … which allows us to offer you domain names at very competitive prices.
All our domain names have included services such as the protection of your personal information or the anti-theft lock but it's not everything! We offer you additional services like 2 customizable email addresses or 2Go web hosting and all this for free!
Nothing better to start your business online.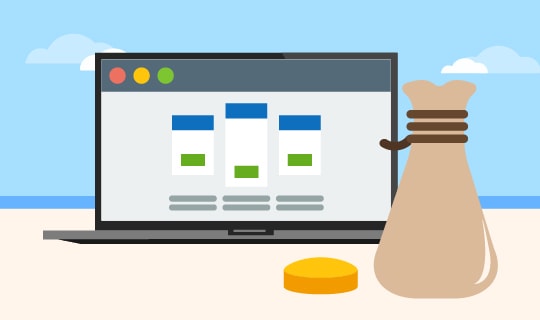 A large choice of extensions
We offer large choice of extensions. From generic domain names to new domain names, you will be able to find the ideal area for your business.
We propose more 400 new extensions like .top, .paris, .pro, … the latter is a very good choice for a business domain name (ex: mycompany.pro). This increases your credibility with your customers.
We also propose many national extensions for several continents. If your activity is only based in France, it will be better to take a .fr domain name for example.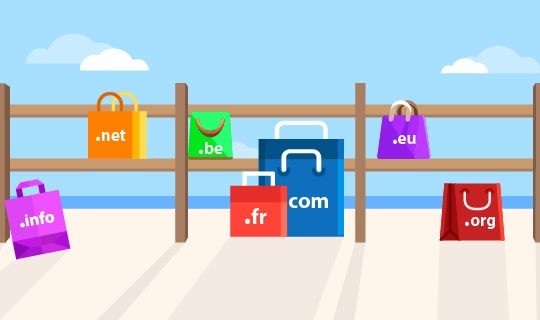 A question about domain names? (FAQ)
How to choose my domain name?
Choosing a domain name is one of the most complex things. First of all, you have to think about a name that best represents your business. It must be pronounceable and must be easy to hold.
Once this step is done, you must now verify that it is an available domain name. If it is indicated transferable or unavailable, you will have to start again by looking for another domain name until you find one available …
So that's why choice is very complex. To save you time, do not go on a domain name with less than 4 characters because simply there are only very few available.
What is the extension of a domain?
A domain name extension is the second part of it. For example for my-domain.com, the extension here is ".com". There are many types of extensions:
TLDs : Top level domain like .com .net .org etc
ccTLD : Top-level national domain, which represents a country as a .fr domain name for France.
NewgTLD : These are the new domain names that have emerged to overcome a shortage of popular extensions like .com .com.
MisterHosting offers you more of 400 like .PARIS, .DESIGN, .BOUTIQUE, .PIZZA, .HOTEL, .RESTAURANT ….
IDN : IDN domains are domain names with an accent like for example company.com
Can I create a free domain?
You can not create a free domain by buying it alone. However we propose a free domain name with all our hosting offers like our cPanel formulas or our Cloud servers.
You should know that for the purchase of a domain name, you will be offered email addresses and a hosting space for a price starting from 0.99 € for one year! At this price, it's almost free.
How to renew a domain?
A domain name is rented, so you have to renew your domain name every year, at the risk of losing it. The domain policy is "first come, first served", if you have a domain name you do not take the risk of losing it.
To renew one or more domain names, simply go to your client area of ​​your web host Mister Hosting and you can renew your internet address easily. You can also enable auto-renewal so you do not forget to renew your domain.
Why register multiple domain names?
The purchase of a domain name does not protect its brand and does not replace a trademark filing. Cybersquatting is a practice that aims to register a domain name identical to yours with a different extension. Cybersquatting can have serious consequences on your business by diverting your visitors.
To avoid this type of practice and protect your intellectual property, the solution is to register a domain name with different extensions. For example: mydomain.com, mydomain.com …
If the free domain name, it is strongly recommended to register them to protect its brand.
How are domains managed?
The domains are managed by the registers, for example the AFNIC (French Association for Internet naming in cooperation) manages the .FR. Mister Hosting has about ten domain name accreditations.
What is a domain?
Definition of a domain name:
A domain name is theInternet address which will be attached to an IP address. In most cases, this IP address is that of your hosting and therefore of your website.
A domain name will come in this form: mon-domaine.com. It will be much easier for your visitors to remember this domain name rather than an IP address (192.168.150.187 for example).
A domain is the address of the site that gives you visibility on the internet.
Can we transfer a domain name?
Transferring a domain name from one registrar to another is entirely possible. Whatever the reason, the transfer of a domain is simply done in three simple steps. Own your own domain name is essential for your activity for the creation of website, you want to go to another host?
With Mister Hosting you simply transfer the domain of your choice. Whether it's a gTLD, nTLD, we offer more 400 extensions available for transfer! The transfer of your domain name will not affect the SEO of your site, your web address will always be the same as you have chosen.
How to choose a domain name?
Finding a free domain name is the first step before creating a website. Indeed, the domain name will allow you to make your site visible on the Web.
It will also be necessary to choose an accredited supplier to be sure not to go through a domain reseller that can be a constraint in case of a problem.
In order to choose your domain name, you first have to check if the domain name you want is not already taken. Once you have found a domain name, it's time to book a domain name by inserting your domain into the domain name search bar. You will be able to see if your domain is free. Select the domain with the extension of your choice. You can then buy a domain name by making the payment.
What services are included with a domain?
With Mister Hosting, you enjoy an all-inclusive package with your domain name. Registering a domain name with Mister Hosting means enjoying essential services included.
The registration of domain name on Mister Hosting allows you to take advantage of 2 email addresses with anti spam, anti virus for you to make emails.
To ensure the protection of the brand, we offer your domain with several different extensions.
A website creation software is included and allows you to create a mini site of a few pages.
More than a million registered domains!